Academic Education
International Students
The Leiden University Medical Center (LUMC), housing the medical faculty of Leiden University, is an academic medical centre for patient care, research and education, aiming to meet the challenges of tomorrow's health care. Leiden University has been at the forefront of medical science and education for over 400 years. We believe that good education is a joint responsibility of students and professors and highly value a critical scientific attitude and curiosity.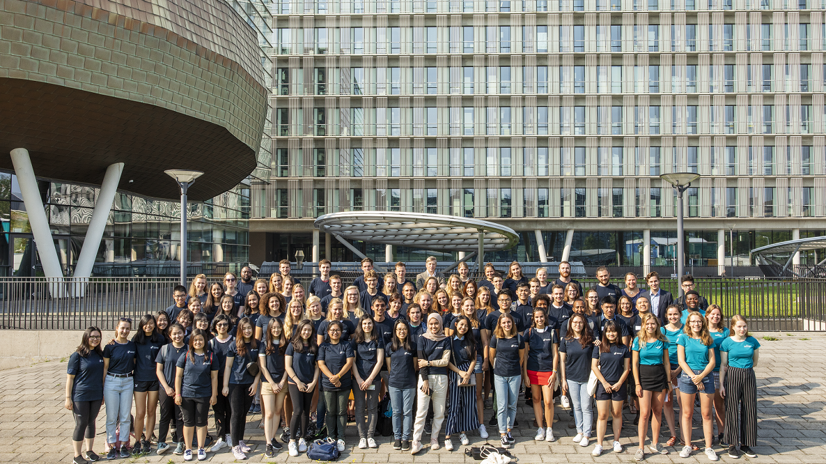 Studying abroad can give you this exciting, joyful experience and can be a stepping stone towards an international career. Are you looking for a study period abroad? A selection of courses is open to international students. Navigate through the menu to see all possibilities for you to study in Leiden.
LUMC: education, medical practice and research combined
LUMC is a modern university medical center for research, education and patient care. We have over 3.000 university students enrolled in the bachelor's programs Medicine, Biomedical Sciences and Clinical Technology and the master's programs Medicine, Biomedical Sciences, Pharmacy, Population Health Management and Vitality and Ageing. The teachers in these varying programs provide students with theoretical, academic knowledge and expertise combined with real examples from practical experience and insights in the latest developments in their field. The small-scale nature of academic education at the LUMC allows for in-depth discussion and intense group work during projects, stimulating thorough engagement for students with their courses, ultimately helping them become well-rounded professionals. The International Office of the LUMC can help international students embark on this journey of becoming an expert in the field of their choosing through top-quality education at the LUMC and Leiden University.
The LUMC International Office: for all studying abroad enquiries
The International Office (IO) supports incoming and outgoing students and colleagues with topics concerning studying abroad, for instance by managing contacts with international students and colleagues. The IO helps students with arranging an experience abroad by providing information on possibilities to go abroad for internships, projects and courses; grants; and deadlines. The IO also assists students from outside of the Netherlands who want to study at the LUMC with enquiries for their study experience in Leiden.
Leiden University and the city of Leiden
Leiden University is a high ranked European research university. The university offers a wide range of bachelor's and master's programs, varying from humanities and law to science and medicine. The university is spread across different historic and modern buildings throughout the cities of Leiden and The Hague. LUMC is located in Leiden, at the edge of the city center. The high number of students with different interests, the small scale of the city and the historic city center give Leiden a unique, relaxed and, at the same time, lively atmosphere. Read more about the city here (NL).
Do you want to know more about student life, housing or teaching methods used in Leiden? Visit the website for prospective students.
Also, check out the Leiden University international students website here.